Knife Scissor and Clipper Sharpening
Drop your tools and knives in for sharpening (near Sion, just out of town). We offer a quick service, that depending on workload can be as fast as while you wait to next day turn around, it all depends on the day! Large orders we can pickup and drop off to your home or business.
We offer special sharpening and servicing for hairdresser scissors, razors, chefs knifes and animal clippers, call for more details.
Prices from September 1st 2020
Kitchen and serrated knives. 40p per inch, Global 50p per inch.
Ceramic knives and special requests. 50p to 80p per inch of blade.
Japanese knives from £10 by hand.
Straight (cut throat) razor £12 new bevel, polish, hone and strop.
Knife repairs. Most repairs £3 to £5 including sharpening.
Steak knives. £1 each
Table knives £1 each
Hunting knives £3 to £10 (size /condition)
Wood Chisels up to 1" £3, over 1" £4
Plane Irons £5 to £10
TCT circular saw blades £7 small, £12 medium, £18 large £21 very large
Wood axe £3 small. £6 large, specials £10 to £20
Clipper blades £6.per set
Rotary mower blades £5 to £10 (size, paint, rust ect)
Secateurs £5
Garden shears Sharpen and service £5 Full restoration service extra
New wooden ash handles fitted to spades, axes, forks and hoes, from £8 to £25 Refit old handle £5
Kitchen and household scissors £2 to £5
Dressmaking and tailor scissors £6 to £10
Dog grooming scissors £6 to £8
Hairdressing, convex-Japanese-Traditional Service and hone £10 to £15
Chain saw blades. off saw £5 to £10, on saw £10 to £15
Antique blades, knives, swords and tools restored.
Other tools such as hoes, spades, vet trimmers and specialised scissors please call.
NO CHARGE FOR MOST PARTS USED. SUCH AS SCISSOR SPRINGS, WASHERS, BUMPS ETC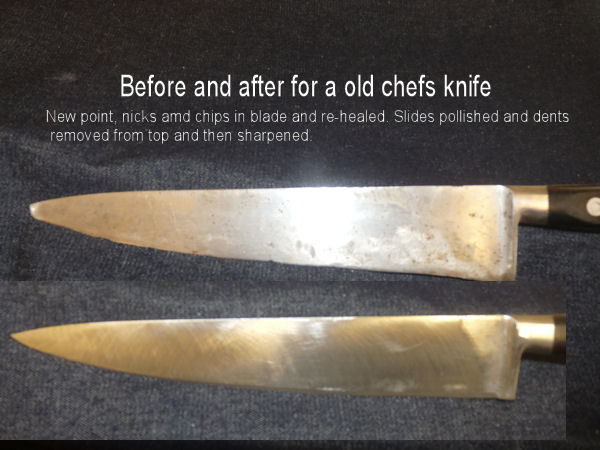 A few examples of work done.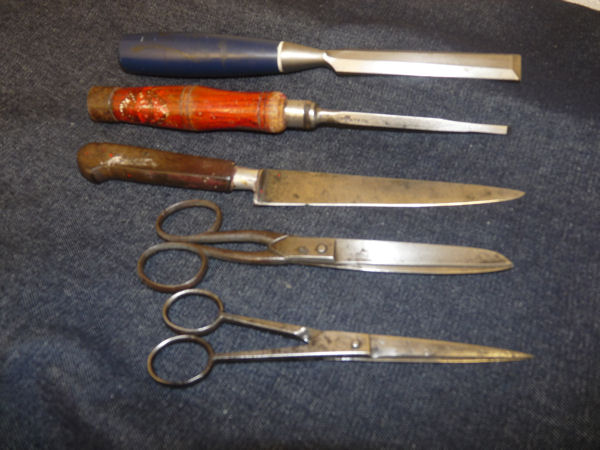 A pair of Japanese chef's knifes that came in for sharpening this week. They are made from Damascus steel was a type of steel used in Middle Eastern sword making. This enables the knife to hold a very sharp edge, but does require specialised sharpening. (10-4-2014).